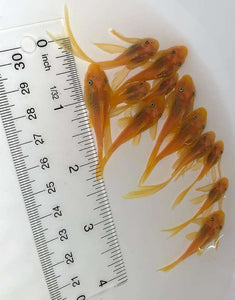 Healthy, Happy &Hungry!
They arrived on time and were well packed. They were alert and active and acclimated with no issues at all. They are the most robust littles angels ever with the best appetites. They already have distinct personalities and always race to greet us. Could not be happier!
Blue eye lemons
Fabulous! They arrived alert and active. They immediately set about their business of exploring tank cleaning plus they look great on a black background.
A floating piece of cholla is the favorite hangout.
Could not be happier with this bunch.