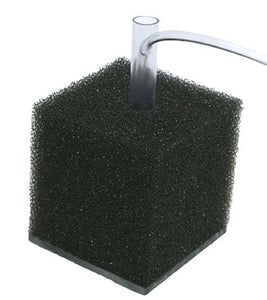 10 days, not 4 weeks
With my newest aquarium, 80 gallon freshwater tank, I just say to try the active sponges from angels plus. These work very well, and I quickly was able to begin cycling the water in my aquarium, much easier and more reliable than the standard "live back." From the various manufacture is a come in bottles. What's my next to Corey and I will certainly be using react to sponge method.
Happy Fish and Students
Wow this did the job. I was able to cycle my tank in no time! And my students love the aquarium!
Wonderful Active Sponge Filters
I purchased 3 of these already. I just got back into the fish profession and have worked hard to get everything for my 10 gallon quarantine tank and 45 gallon corner tank into shape. I got this filter for my quarantine tank at first, and after 2 weeks, I have 0 ammonia, 0 nitrites, and 0 nitrates, with one water change. I just got two more to put in my display tank to get it ready for my first 8 fish. The sponge filter instantly cycled my quarantine tank and never saw ammonia or nitrites. The fish are happy, eating, no disease. Perfect. I get my next shipment tomorrow and will get them set in my display tank and will move my new fish in there either Thursday or Friday. Then, I'll get some more fish using the same filter that is in my quarantine. Hoping for the same results. I tried fishless cycling, but that takes 6-8 weeks, if it even works. Way too long. Note, to not use prime nor ammonia drops as Steve suggests. These filters need actual fish waste and food waste to work properly. Overall, for the price, these filters are a MUST buy. They even come with active nitrifying bacteria to make sure your tank is all set when you get it. Now, I will keep two of these sponge filters in my display tank, and will have one of them available if a hospital tank ever needs to be setup. Thanks for offering this service Steve. He has so many years of experience, and as you can tell from the over 90 percent 5 star ratings, these work
This really is an "Angel"
I have 3 tanks that I have been trying to get properly cycled for about 3 months. Because they have fish in them, and showed 0.25-0.5 ammonia and nitrite, I was doing 50-75% water changes every other day (I didn't use prime). But I was freaking out because we had a weeks long family vacation planned. I didn't want the fish to suffer/die while we were away. These sponge filters made my water parameters perfect in all 3 tanks (5.5 gal, 20 gal and 36 gal) in less than 3 days. They are still perfect on my return 10 days later. They are a godsend. My fish thank you! I have "free" time now that I'm not constantly worried about my tanks. Fish keeping is finally enjoyable for me.
Fantastic
Struggled with cycling ( fish in ) for a month. Test results fluctuated from day to day. Added your filter, two days later perfect water. Worth every penny. Thank you Angelsplus.