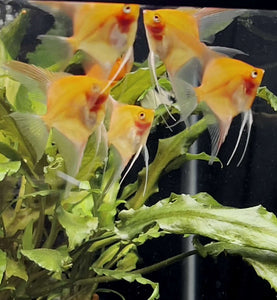 Veil sunsets
Just a awesome angelfish the light orange is great couldn't be happier
Stunning
The best sunset angels I ever see .perfect shape and deep orange color. I can't wait to breed this sunsets with my orange marble. Thank you Steve
Beautiful
My new favorite angelfish breed. And as always angelsplus came through with the perfect specimen. My only regret is that they only had one. Wish I could have had more.
Unhealthy
I picked up the fish at UPS. They looked great but on the thin side. One wasn't eating and died a few days later with the other to follow. I've raised Angels for over 30 yrs. I'm not a novice. That was a lot of money to toss out the window.
This is the exact email that she sent us after getting the fish:
'Just wanted you to know the Angels arrived in great condition and are very feisty. They are stunning!!! Thank you for picking them out for me. '
We are happy that she received fish that arrived in great condition and very active. Unfortunately, we can't be responsible for keeping them that way.
---