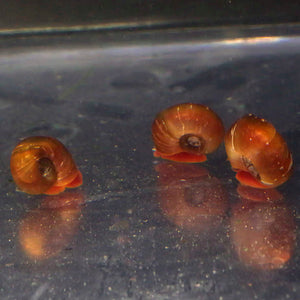 Alice and Movinnn
These Ramshorn Snails are super active in my tank. They are definitely eating a good amount of the Cyanobacteria that I've been trying to get rid of for weeks 👌🏼
Snail - Red Ramshorn (Group of 20)
Snails were abundant and very healthy. My MBU and Terrapins had a nice chow for 3 days.
Thanks!
My purchase was a small and very inexpensive one but was handled professionally with an overcount. Many thank yous.
So many snails
Ordered 20- got WAY more. All in great shape- no DOAs, likely due to being packed so well. Very pleased with my order.
Red Ramshorn
Snails came alive and well and plenty more than 20. They are already busy at work cleaning the algae. Great company.
Thank you.