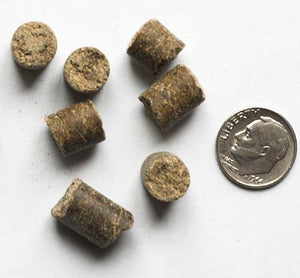 Great for my snails!
I mainly got this for my snails. I bought an extremely large snail shaped like a Trumpet Snail but big! Idk what kind it is bc the LFS employee didn't know and their wasn't a sign. I also have trumpet nerite and 1 mystery snail. They don't really like the wafers and I have tried several different types. I have a lot of fish also so when I go for the weekend I know they will eat well! I wasn't expecting 2 big bags which is awesome! Their packaging is top notch! I buy medicated food and flakes from Angel Plus also and I have to say.. I lost 2 Angels 2 Rainbows and 2 Bettas to internal parasites! I also had a betta with Popeye and 2 with Fin rot that survived due to their medicated flakes and cured them! It also saved over 50 fish from suffering. Due to that my only surviving Angel fish rejected all food but the Prevention flakes, which I knew should not be fed as a staple & that's when I decided to try this pellet and some of the other flakes for daily feeding.. He is my only flake eater but I feel good feeding him this brand. I only wish I came across them sooner!
all foods
Great service and food is packaged so it can be resealed. Would recommend and will buy again.
Great food!
These work wonderfully for feeding my snails and BN pleco fry. Every fish loves them and they take a long time to be picked apart. Not very messy like other sinking wafers can be.
Fish and snails love these things, last as long as your fish can devour it!
Fish and snails love these things, last as long as your fish can devour it! Also check out their snail selection! Everything came alive and even got an extra light purple!
---