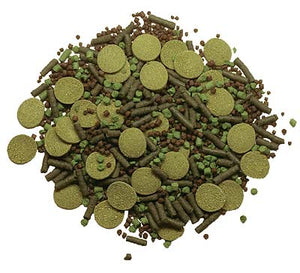 Consistency issue
only a few algae wafers and has many of one kind could be fry pellets. It would be nice to list all the pellet name and their ingredients, this will be helpful for the new customers who are the first time buying the mix.
Good Mix
Very easy to feed a variety, I'm using this mainly for bristlenose plecos, shrimp and snails but of course all the nano fish love eating it too! Once I get to the bottom of the bag (were all the small pellets remain) I'll feed it to my African cichlids.
I would appreciate wafers half the size, breaking them in half each time is a pain (for my fingers).
Consistency is not there
Seems like every order of this has a different ratio of elements. One time few algae wafers and an overload of fry pellets and then the next order has an overload of wafers and hardly any fry pellets. The fish love this overall but with the latest order the jury is still out since the mix changed so dramatically.
---