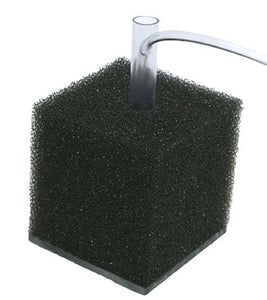 Exactly as described and did what they said it would do! Would buy again!
Sponge filters -active
Don't be afraid to try these , best on market for cycling a tank ! I've used them for years.
Amazing
I was given horrible information at the pet store and told to leave a betta in and it would cycle the tank. I had bought multiple tanks from a yard sale and they told me let it run a day and that's it. I should have researched but i took those two "experts"?advice because I didn't think it would be wrong. Well I set everything up then started watching YouTube. I realized that it needed cycled and would not be done in 24 hours. In my defense, the 24/48 hours thing is what I was always taught younger. I was watching a video and they said something about buying a seeded sponge. I had posted looking for one locally but no one had, I googled it and found this site. I couldn't believe how cheap. I bought two and it came quickly. I put them in the two tanks I was having the most problems with. The one was cycled by the next morning (roughly 16 hours) and the other like 30 hours. I almost cried, no more daily water changes. I ordered more and had to add to the order. They were very nice and added it quickly. They also answered a few questions I had in a timely manner. I'm very grateful for this and the customer service was amazing too. I now have all cycled test. I still test every other day out of habit but it was daily so I'm adjusting to having cycled tanks.
I started a new tank and quickly had nitrifying bacteria doing their job. I've tried multiple other methods setting up a tank and they worked poorly or not at all. The bottled start-up bacteria in all the brands I tried were virtually useless. These sponges from Angels Plus are flawless.
---